Murmurings of Namita GIRLS
並田GIRLSのひとりごと
NAMITA RANGER – A new character is born ☆
22.12.2022
It will soon be Christmas.
How are you planning to spend your time?
I have a feeling that I will end up spending my precious weekend just moping around (laughs).
I heard that "Merry" in "Merry Christmas" has a sunny meaning such as "joyful" and "cheerful". (´・ω・`)
I have a feeling that I will have the opposite kind of Christmas.
I wish you all a very merry Christmas! 
Now, I introduced NAMITA RANGER in my blog a while ago.
Namita Ranger⁉".
It consisted of 6 characters,
We are pleased to announce the birth of a new character.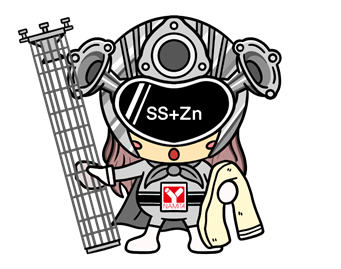 NAMITA SILVER
The motif is a filter cage, which is one of Namitakiko's main products.
Our filter cages are not only made of "SS+Zn", But this time we have chosen "SS+Zn" as the material.
Please contact Namitakiko for filter cage designs as well.
We asked our creators to create the retainer this time as well, It was fun to be involved in the creation process, discussing motifs and colors with everyone.
We are happy that the seven characters will be loved by everyone.