Murmurings of Namita GIRLS
並田GIRLSのひとりごと
What is M?
13.06.2023
Now, our products are, We produce a wide variety of products such as VM1, YM4, YM5, etc.
The other day, after all this time, I was wondering, "What is the "M" in "eh, VM1 or YM4″ anyway?
"What is the M in VM1?" I went to our legends and asked them, "I'm sorry, I know it's a little late. I went to ask them, and they told me that it is "M" of "Anchor Metal".
I was honestly surprised to hear that. That was my honest impression.
VM1 is the 1st type of V-type anchor metal.
I mean, if you look at our catalog carefully, it's a very big claim.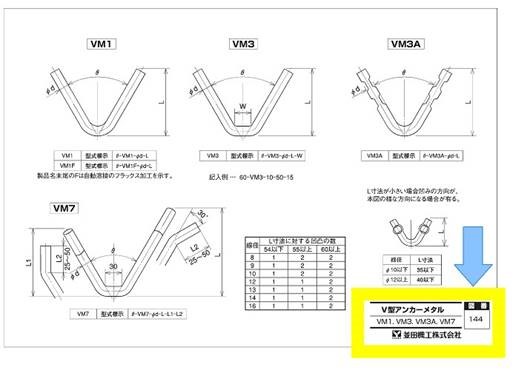 Please click on the link above, and then click on the anchor you are interested in from the product lineup, and download the product catalogs from the PDF download page.
Whether V or Y, we are at your service!
We look forward to your inquiries and orders.
That's all.