REFRACTORY ANCHORS
アンカーメタル
REFRACTORY ANCHORS (Industrial furnace hardware)
アンカーメタル
In recent years, refractory castables have been used in a wide range of fields, including various industrial furnaces, petrochemical-related facilities, cement manufacturing facilities, and waste incinerators, etc. Refractory anchors are reinforcing hardware for holding and securing castables.
There are various shapes of refractory anchors, including "V-shaped," "Y-shaped," and "corrugated" anchors, depending on various applications. The selection of anchor material, size, and shape varies depending on the refractory construction thickness, construction method, and operating temperature.

Features of Namita's Refractory Anchors
並田のアンカーの特長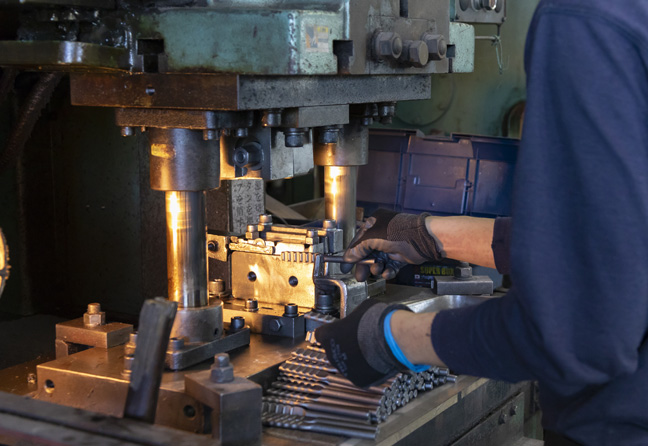 In-house integrated production system
FEATURE
For refractory anchors, we have established an integrated production system in which we carry out all processes in-house, from material procurement to cutting, forging, bending, pressing, welding, and inspection and packaging.
Namita's refractory anchors are made-to-order products. Our production system is capable of handling a wide variety of products in small lots, and we can manufacture even a single unit.
Our quality control system is designed to maintain high quality, and is thoroughly controlled by material lots and material certificates.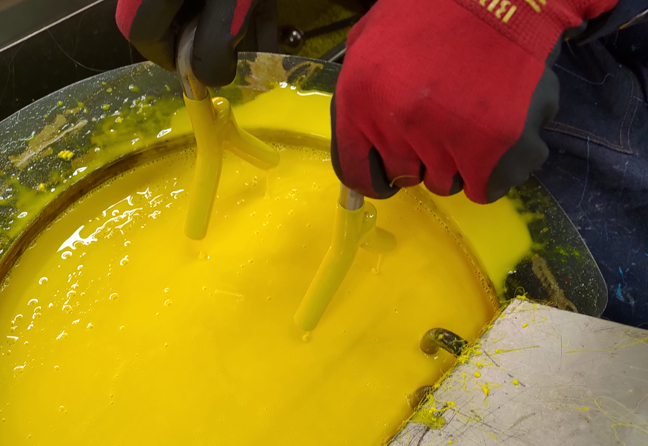 Nami Color Coating to Prevent Cracks in Refractories
FEATURE
Nami Color coating, which prevents cracking of refractory materials due to the thermal expansion difference between the anchor and refractory materials, can be applied to the anchor.
With the introduction of wire forming machines, we are able to mass-produce products with stable quality through integrated processing from coiled materials to straightening, bending, and cutting.
We can manufacture not only refractory anchors, but also pins, hangers, and other parts associated with brackets and bricks.
Namitakiko's refractory anchor
POINT
YM4, YM5 Forged type anchor

YM4 and YM5 are integrally molded products made from round bars that have been uniquely processed, so they are lightweight and maintain stable quality.
We have an integrated production system with a large stock of materials of various steel types and wire diameters, which enables us to offer low prices and quick delivery.
(Optional) Flux processing is also available, making it suitable for automatic welding (stud welding). Threading is also available.

POINT

1)We have a wide variety of materials and wire diameters in stock, so we can provide quick delivery.

2)Since it is a round bar, it is suitable for automatic welding (stud welding) and is expected to improve workability on site.

3)Some sizes and shapes are in stock and can be shipped immediately.

There are three main types, YM2A, YM2B, and YM2C, which can be selected according to price, delivery date, and strength.
The welded type can be mass-produced with high quality by introducing a welding robot to set the welding conditions, which enables short delivery time and low price.
If required, horizontal bars (RB) or V-anchors (VM1) can be attached to the body of the Y-anchor to improve the holding performance of the anchor metal, and also serve as markers when installing two-layer castables for heat insulation and fireproofing.

POINT

YM2A Type
A straight round bar is welded to the bottom side of the V-shaped anchor (bottom curved part) to make a Y-shaped anchor. Among the three types, this is the most inexpensive and has the advantage of quick delivery.

YM2B Type
By welding the two bent parts back to back, a long weld bead can be obtained and the weld strength is excellent.

YM2C Type
Considering the risk of breakage under tensile load or corrosive environment, even if the round bar of the Y section welded diagonally breaks, the Y section on one side is bent from a straight bar, and the possibility of breakage is low and the retention performance remains.

OTHER

Others

YLM series with L-bent weld area for better weldability and workability with iron shell in anchor installation.
The WU series is our original two-stage anchor that can be connected and is ideal for multi-layer construction.
Chain link, Diamond-shaped wire mesh, Welded wire mesh, Hex steel, etc., suitable for spraying method.
3D anchors, Wave anchors, Nut-type two-stage anchors, etc., which are often seen in specifications outside Japan, can be arranged in various ways that only made-to-order production can provide.
In addition to castable construction applications, we also offer the PM and BM series of hanging hardware for bricks, as well as the HM and CM series of hanger metal.
SB, SP, and TP series of furnace hardware, including stud bolts and pins, are available for fixing fiber blankets for insulation.
We also manufacture sheet metal products such as brick support hardware, so please feel free to contact us.