Murmurings of Namita GIRLS
並田GIRLSのひとりごと
100 Years of Life, Lifelong Learning Begins! 📒🖊
01.03.2022
In recent years, people have been spending more and more time at home alone (with their families), unable to go out and meet with others.
In order to make the most of such free time, more and more people have started correspondence courses, camping, boating, and other activities.
Feeling impatient, I decided to take the group's correspondence course!
Last time it was "Nissho Bookkeeping Test Level 2" and this time it is "Civil and Commercial Law for Work".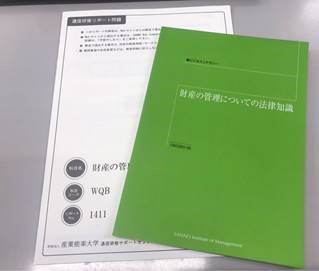 When I was a student, I was not very good at studying, and only worked on it a few days before each test, but I was surprised to find that studying as an adult was surprisingly enjoyable.
SEE ALSO.
12 Ironclad Rules for English Sentence E-mails 
The Difference at Work! Excel Time-Saving Techniques
Let's get started! PowerPoint The
Understanding Logistics
Gently Learn to Reduce Costs in Manufacturing
Mastering Health and Safety on the Job Site
Practical help! The Basics of Social Insurance
Interpersonal Skills: Improve Your Interpersonal Skills by 50%!
Increased sensitivity! ~ How to Improve Your Telephone Skills
Your Presentations Will Change: Presentations Told with Stories.
etc. etc.
Lots of fascinating learning courses!
You can master your field of work! Learn other fields of study! I would like to celebrate 100 years of life in a colorful way.
Last but not least, STOP WAR, NO WAR!
Yesterday, cookies with the image of the Ukrainian flag were distributed for free.