Murmurings of Namita GIRLS
並田GIRLSのひとりごと
Next thing I know…
20.12.2021
Hello!
It's already late December before you know it, and the end of the year will be here before you know it.
And…
Christmas is coming soon🎅🎁
(Santa Claus isn't coming anymore, but…)
Every year when Christmas approaches, I feel that the year has gone by so fast.
When I go to the office Christmas tree was decorated at the entrance.🎄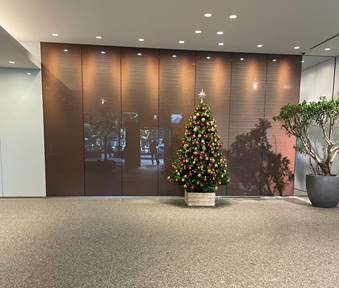 I couldn't help but take a quick picture.📸
As I walk around the city, I feel that everywhere is in a Christmas mood and the streets are sparkling even more than usual.
How are you going to spend your Christmas?
I'm sure you will be busy at the end of the year, but I wish you a happy Christmas!⭐️