Murmurings of Namita GIRLS
並田GIRLSのひとりごと
Completely in Christmas mode
15.11.2022
The streets, which until just a few days ago were in full Halloween mode, have begun to light up and change to Christmas mode.
The streets have been lit up and are now in the Christmas mode.
※The Christmas tree has arrived at Namitakiko's headquarters!
We are now in Christmas mode just like the rest of the world.🎅
In Osaka, where Namitakiko's head office is located, the Midosuji Illumination is held every year to light up the Midosuji Line as part of the Osaka Feast of Lights, and in Nakanoshima, the city is lit up in a spectacular way as part of the OSAKA Hikari Renaissance.
I took some photos of Midosuji the other day….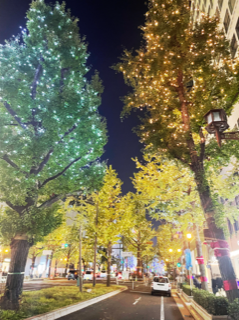 Christmas! Which means that the end of the year and the beginning of the new year will soon arrive…
Our company will be closed from Thursday, 12/29/2022 to Tuesday, 1/3/2023 for the New Year holidays.
Also, we apologize for the inconvenience, but due to the inventory day on 12/27/2022(Tue.), we will not be able to make final shipment until 12/26/2022(Mon.). Depending on the delivery address, the final shipment date may be moved up.
For details, please contact the person in charge.
We expect shipping congestion and delays during the year-end and New Year's holidays.
Please place your orders and specify delivery dates well in advance.
Let's all work hard for just over a month more for the year-end and New Year's holidays~!