Murmurings of Namita GIRLS
並田GIRLSのひとりごと
Home is what you think of when you are far away 🗻🍷🍒🍇
11.05.2022
On a personal note, I returned home (to Yamanashi Prefecture) for the first time in about 5 years during the May holidays!
During the period when I couldn't return home even if I wanted to because of COVID 19, I supported Yamanashi by paying my hometown tax!
"Ganbare" Yamanashi!
The sight of the stunning Mt. Fuji, which I hadn't seen in a long time, kept me excited along with the tourists!
In recent years, it seems to have become a popular camping spot, with many campers crowded around the lakeside!
Where is Yamanashi? What is there? But in fact, Yamanashi Prefecture is the No. 3 prefecture you want to move to (it also has the No. 2 healthy life expectancy)!
Fuji, lakes and forests, abundant in fruits and vegetables such as wine, cherries, and pineapple, and easy access within 2 hours from Tokyo, and adjacent to Nagano [No.1], Shizuoka [No.2], Kanagawa, and Saitama. It is in a good location.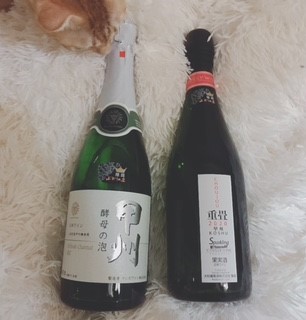 Note: Dogs and cats are not allowed to drink any alcoholic beverages.
This is the season of "May illness," a kind of depression due to personnel changes and environmental changes….
Please come to Yamanashi Prefecture, where people say they want to move to, to rest your body and mind.