STUD WELDING
スタッド溶接
STUD WELDING
スタッド溶接
It is a method of welding stud bolts and other round rods to metal plates by applying a special process to them.
Stud welding is used in a wide range of fields, and has become an indispensable technology in the automotive industry, construction, civil engineering and bridge-related fields, furnace construction, and also in sheet metal processing.
We are developing a new business in stud welding, mainly for furnace construction.
In 2015, we acquired Asia Giken Co., Ltd. as a subsidiary, which manufactures and sells stud welding machines, and we are accumulating experience in stud welding at waste incineration, industrial furnaces, and biomass power generation facilities.
By placing a bulk order for stud welding and materials with us, we can save our customers time and reduce costs.

Features of Namita's Stud Welding
並田のスタッド溶接の特長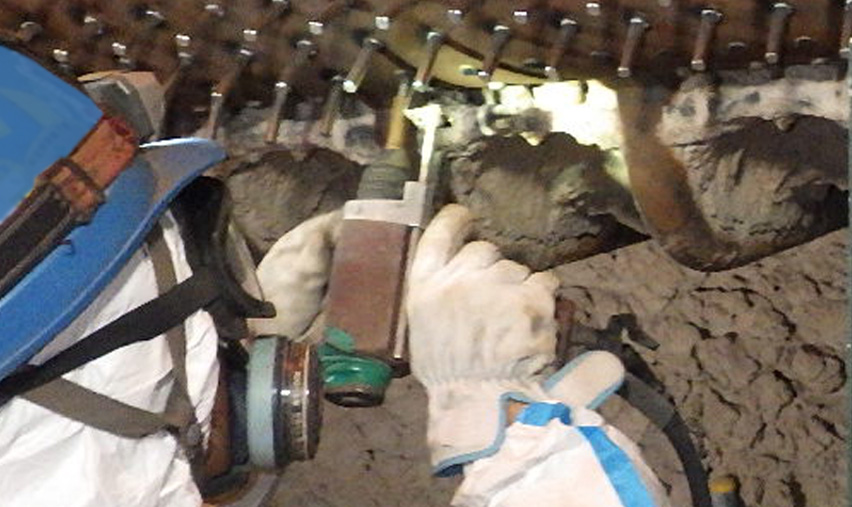 For holding refractories and preventing them from falling. Advantageous in terms of strength and heat receiving/dissipating efficiency
FEATURE
It can hold refractory materials, prevent them from falling, and improve heat-release efficiency by increasing the surface area.
Stud welding is a surface welding process. Stud welding is advantageous in terms of strength and heat-release efficiency compared to Tig welding, which is welded with lines.
Studs protecting the boiler tube tend to thicken faster when the stud length is less than 15mm. It is necessary to consider repairing the studs by connecting them when the existing stud length is about 10mm.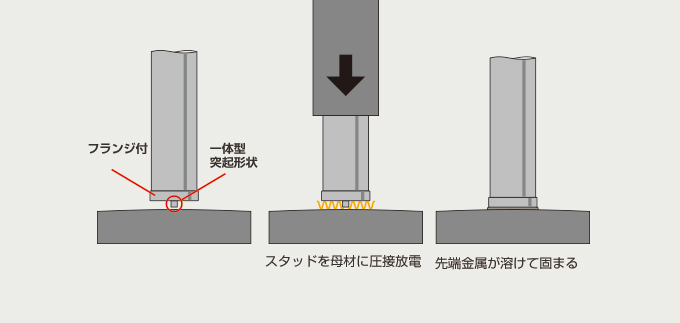 CD(Capacitor Dischage)welding method
FEATURE
A welding system that instantly discharges (in the 1/1,000 second range) the power stored in a group of capacitors with unique design and performance, and welds with almost no thermal effect on the base metal.
This system is suitable for welding thin plates and other base materials, as it has very little thermal effect on the base material. It is used for water pipes and chimneys with painted backsides, where thermal effects are not desired.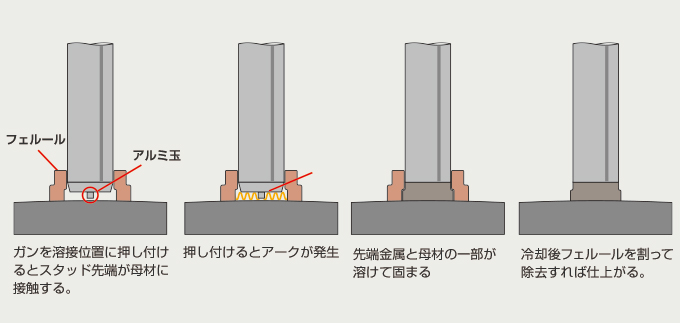 Arc stud welding method
FEATURE
Stud welding system, which converts AC power to DC power and melts base metal and stud by the electric current, requires long welding time (1/10th of a second), so that deep penetration of weld zone, aluminum balls for flux part, and ferrules as welding aids are necessary.
Since the heat effect on the base metal is large, it is suitable for welding on thick base metals (thickness of 1/3 or more of the weld diameter). In boilers, it is mainly used for welding fins, headers, and new pipes.
Advantages of Namita's stud welding installation
ADVANTAGES
01

As a stud welding manufacturer, we offer total solutions from materials and welding machines to installation methods based on our extensive experience.

02

We are able to reduce our customer's purchasing effort by providing an integrated service from manufacturing studs to on-site installation.

03

As a manufacturer of studs and welders, you can trust us with your installation.

04

Welding tests and data collection are available upon request.